General Information
New rollingstock was built progressively from 1949 to replace the wooden joint stock used on "The Overland". Each carriage was constructed by the South Australian Railways at the Islington Workshops and measured 78'3" over coupling points.
Exteriors were finished in maroon, with a fluted stainless steel panel on each side of the cars running above and below the window level. The roof was painted black. Later vehicles windows were fitted with venitian blinds contained in a cavety between the outer and inner glass window sheets, the earlier cars had holland blinds.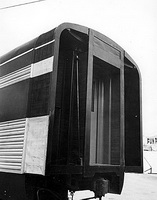 All cars were fitted with air conditioning. Carriages built prior to the 1970 were all fitted with axle driven generators and converted to head end power in 1970. All the later cars were constructed for use only with head end power.
The classification system used for the new carriages was:
Motor rail was introduced from 6.11.1978.
In 1995 all cars, except for "Club No.1" and the "PCO" power cars, were transferred to Australian National ownership in preparation for the conversion of the Adelaide to Melbourne line to standard gauge. Many of the cars were also converted to standard gauge after the line conversion.
Additional information is available on: