CB class Budd Railcars - CB 1 to 3
Jump to:
As part of its post war rehabilitation programme the Commonwealth Railways upgraded its short haul passenger services by introducing railcars on the runs between Port Pirie, Port Augusta, and Tarcoola. A contract for the delivery of three air-conditioned railcars was let to the Budd Company, Philadelhia, U.S.A. in October 1950.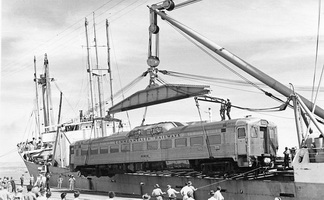 The three Commonwealth Railways railcars arrived aboard the motor vessel Belbetty in March 1951. They were the standard Budd RDC-1 design, and featured stainless steel bodies and air-conditioning. There were two compartments, with seating for forty-nine in one and forty-one in the other. After entering service buffet facilities were fitted and seating improvements made, reducing the capacity to seventy passengers.
On 28 and 29 April 1951 a trial run of one of the cars was made on the Trans-Australian Railway, from Port Augusta to Kalgoorlie, and it produced spectacular results. The total time elapsed for the 1,052 mile journey was 18 hours 40 minutes, but this included 35 stops, and the actual running time was 16 hours 49 minutes, an average speed of 62.5 miles per hour. Higher sectional average speeds were attained, and an average speed of 72.6 miles per hour was recorded over the 317 mile section, including the famous 297 mile straight, between Ooldea and Nurinna. The top speed was claimed to be 90 miles per hour.
Regular passenger services were introduced from May 1951 when the cars replaced the mixed train that operated between Port Pirie Junction and Pimba. In 1952 the service was extended from Pimba along the military stores siding to the Woomera township. Even on the regular service spectacular running times were achieved with speeds of 81 miles per hour being recorded. The speed performance of the Budd cars even made it necessary to effect a new by-law compelling all road traffic to stop before proceeding across level crossings. From July 1952 the cars made regular runs to Tarcoola, however this journey involved long stretches of unfenced track and damage was often caused through running down stock and kangaroos. The Budd car service to Tarcoola was discontinued on 25 January 1961, although the service was retained between Port Augusta and Woomera.
A shortage of luggage accommodation on the Budd cars was overcome by the fitting out of several steel vans to be hauled as trailers. Painted silver and coded VDB, they were regularly seen being hauled behind a single or double railcar.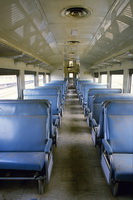 Completion of the new standard gauge line to Marree made it possible for Budd cars to work over that line, at first to Brachina, and ultimately to Marree. The problems of running down stock that had existed on the Tarcoola run also appeared on the Marree run, and it was necessary to withdraw cars for repairs from time to time. During the year 1963-1964 the single Budd car was replaced on this run by a diesel hauled train, although a Budd car was included in the consist for the convenience of passengers travelling between Marree and Port Augusta as the diesel hauled train worked direct from Port Pirie to Marree. About this time a number of Rolls-Royce engines were purchased to replace the original engines of the Budd cars. Only CB 3 was actually fitted with Rolls-Royce engines.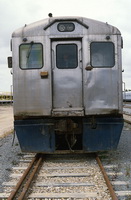 Following the opening of the Port Augusta to Whyalla line, Budd rail cars were also introduced on that service. This meant that the Budd cars worked services between Port Pirie, Port Augusta, Woomera and Whyalla.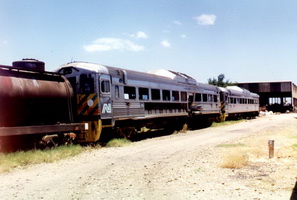 All three Budd cars were transferred to Australian National Railways in 1975, who shortly after withdrew them from service and placed them in storage at Port Augusta. In 1986 they were refurbished and returned to service on the Iron Triangle Limited from Adelaide to Port Pirie, Port Augusta and Whyalla. This service was withdrawn on 31.12.1990.
Class:
CB
Builder:
The Budd Co., Philadelphia, Penn, USA.
Introduced:
1951
Number in Class:
3
Model:
RDC-1
Wheel Arrangement:
1A-A1
Engine:
Manufacture:
GM
Rolls Royce
-
Model:
110 (2)
C6TFH MK4 (2)
Cylinders:
Number:
6 (two stroke)
6
-
Bore & stroke:
5 in x 5.6 in.
5 1/8 in. x 6 in.
Horsepower:
275 x 2
255 x 2
Gear ratio:
2.08:1
Tractive Effort
Starting:
8,000 lbs
-
Continuous:
2,000 lbs at 85 mph
Length (over coupling points):
85 ft.
Maximum Axle Load:
12.3 tons
Total weight:
49¼ tons
Fuel Capacity:
210 gallons
Maximum Speed:
85 mph
Hydraulic Transmission:
Manufacture:
Allison
Hydraulic Final Drive:
Manufacture:
Model
Spicer
7004-1