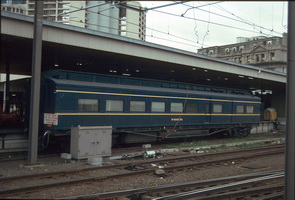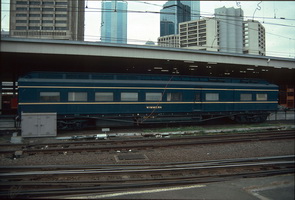 Wimmera -- Medical and Vision Test Car
Built at the Victorian Railways Newport workshop in 1908 as a Dining car (sister to "Campaspe" and "Goulburn"). The kitchen was centrally situated between two saloons, one seating 24 first class and the other 18 second class passengers. It had ornate metal ceilings, high backed leather chairs and was used on both the Sydney and Adelaide expresses.
In 1938 it was converted to the Medical and Vision Test Car. It was withdrawn from service in 1981, but reentered service in Augusta 1988 painted blue and yellow on Commonwealth Bogies with the name "Wimmera" on side of car.
See also: Wimmera No.2.