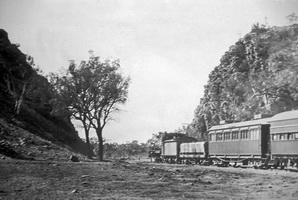 110 -- Wanilla No.1 -- NRP 24
South Australian Railways narrow gauge bogie sleeping car, built by Adelaide locomotive workshops as a "6 wheel bogie sleeping carriage" and issued to the northern system 12.1889 as "110".
Four sleeping cars were built to a common design during 1889 and 1890 at the Adelaide workshops (No. "109" to "111") and during 1900 at Islington (No. "112") for the Northern division. Length over body was 42 foot and overall length being 49 foot 4 inch, height 11 foot 3 inch and width 8 inch, mounted on six wheel bogies. Two water tanks were mounted on the roof, one at each end.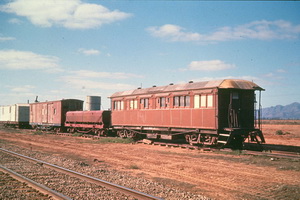 The cars were divided into six compartments. Gentlemens toilets were located at one end and contained a seat and lavatory accomodation, the other end contained the ladies toilet and two berths. Four intermediate compartments each contained four Pullman style berths, two single seats facing each other either side of a central aisle. Passenger capacity was 18 first class passengers. Between each compartment was a sliding door, except for the gentlemans end which had a hinged door. During the day the bunks were stripped by the conductor and used as seating.
In 1917 the cars were named "Yanyarrie", "Wanilla", "Morambro" and "Baroota". Wanilla was allocated to Quorn for the Oodnadatta service.
On 4.6.1924, Wanilla was purchased by the Commonwealth Railways in preparation for taking over the Central Australia Railway from the South Australian Railways. The Commonwealth Railways renamed the car "NRP 24".
See also: Wanilla No.2.