112 -- Baroota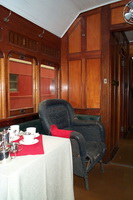 Narrow gauge 46 foot 7 inch sleeping carriage. Built at Islington Workshops as sleeping car "112" and issued to the Northern system 28.5.1900.
Four sleeping cars were built to a common design during 1889 and 1890 at the Adelaide workshops (No. "109" to "111") and during 1900 at Islington (No. "112") for the Northern division. Length over body was 42 foot and overall length being 49 foot 4 inch, height 11 foot 3 inch and width 8 inch, mounted on six wheel bogies. Two water tanks were mounted on the roof, one at each end.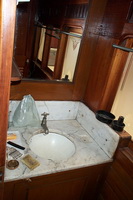 The cars were divided into six compartments. Gentlemens toilets were located at one end and contained a seat and lavatory accomodation, the other end contained the ladies toilet and two berths. Four intermediate compartments each contained four Pullman style berths, two single seats facing each other either side of a central aisle. Passenger capacity was 18 first class passengers. Between each compartment was a sliding door, except for the gentlemans end which had a hinged door. The first car No. "109" had a solid partition, a door not being cut in it until 1932.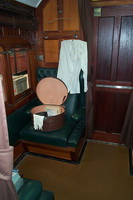 In 1917 the cars were named "Yanyarrie", "Wanilla", "Morambro" and "Baroota".
On 29.7.1907, emerged from Islington in the guise of an observation car fitted with Stone's electric light. She now carried 14 sleeping or 18 day passengers, the end compartment having had the fixed seats removed and a table and four movable chairs fitted in their place. Also, the toilet, which had been in this compartment, was relocated in the adjoining compartment.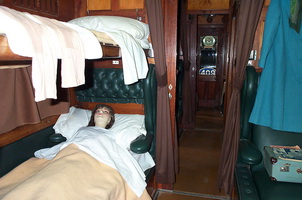 In 1913 a speed indicator, clock and fan were fitted in the saloon, and it is believed that the car was thereafter used as a Departmental car for the most part.
"Barrota"was used on the Peterborough to Broken Hill main line.