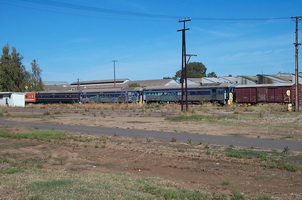 Tanjil -- Buffet Car 5 -- VRS 3 -- VRS 233
Steel buffet car (No. 5), built by the Victorian Railways in 1939, provided seating for 19 passengers at the buffet plus 12 first class in two compartments. It was converted to "VRS 3" in 1962 for use on the standard gauge, at which time it was modified to become a full buffet car without the sitting compartments. Later it was recoded "VRS 233".
See also: Wimmera (Buffet car No. 2), Mitta Mitta (Buffet car No. 3), Moorabool (Buffet car No. 4).