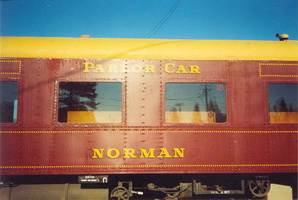 Norman No.2 -- Parlor Car
"Norman" entered service in 1937 as an air conditioned parlor car on the Spirit of Progress. It had a rounded observation lounge at one end and was painted Royal Blue with a gold leaf band above and below the windows.
In 1956 it was transferred to the Intercapital Daylight for use as a lounge car. It was rebuilt as mini buffet and club car for use on the Intercapital Daylight in 1958.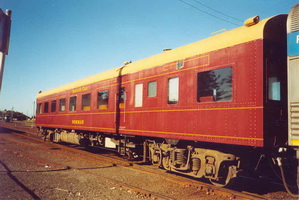 Given the name "Norman" in 1962 when its interior was completely rebuilt, losing the two luggage doors associated with the conductors compartment and a door, with diaphragm was cut into the observation end. The kitchen was enlarged and the toilet area fitted with a shower. It first outing was on 6.4.1963. It was intended to be used as a lounge car, club car and VIP car for royalty and vice royalty.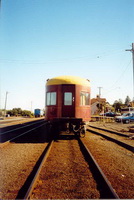 It was again rebuilt in 1985 as a mobile venue for business or social uses, including conferences and seminars or group travel to sporting fixtures. The ride in it was smoothed by putting in lateral dampers to stabalise the sideways sway. Exterior livery of blue with a gold stripe above and below window line. The car has interior fittings of polished woodwork, quality wooden tables, curtains and carpets, and red upholstered chairs to match the liquor bar.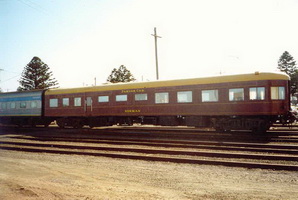 The car was fully equiped with a modern kitchen to cater for anything from morning tea to a five-course, sit down dinner. "Norman" (1985 style) carried up to 30 passengers for a hiring fee of, usually, about $800 - $1000 plus catering charges.
In 1988 the diaphragm was removed and the car repainted in grey and off white, with narrow orange and green lines above the window.
See also: "Norman" No.1 .