Perseverance -- Inspection -- Norman No.1
Victorian Railways Commissioners car. Built Newport Workshops 1890 as one of a pair of "BL" sleeping cars, 75 foot in length, each with 8 compartments and a buffet section, and was named "Perseverance", for use on the Portland line.
In 1900 converted to a special car for use of the Railway Commissioner and renamed "Inspection", seating 28 passengers. Internal rebuilding took place in 1921 and name changed to "Norman" after Mr C.E Norman, a former Commissioner of the V.R..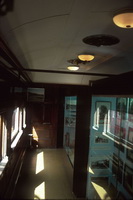 In 1954 it was fitted with a new chassis (ex No.1 State Car).
"Norman" was replaced by a modern steel car of the same name and entered the Australian Railway Historical Society Museum North Williamstown. It was transferred to the History register on 13.7.1983.