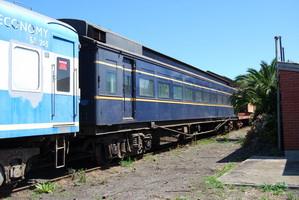 Buchan -- Sleeping Car 4
Victorian Railways wooden sleeping carriage, with a Clerestory roof, built to the same design as the cars used for The Overland. It was built in 1923 at Newport, by contractors Gaulton and party, for use on the Adelaide and Mildura lines. The provision of a tenth two berth cabin occupied the area used as the smoking saloon in the earlier cars. A weight of 41 tons 10 cwt, was recorded.All other dimensions, were identical with the Joint Stock Sleepers. A feature of the modified cars was the unequal length of the end vestibules. The one at the end where the tenth sleeping cabin, smoking saloon end of the "standard" cars, was 1 foot 9 inch longer than the other being 9 foot 5¼ inch long.
Fitted with air conditioning 20.7.1938. To accomodate the gearbox drive of the air conditioning equipment a heavier fabricated bogie of a generally similar design was provided for the rebuilt sleeper. It was recoded to sleeping car No. 4 and painted blue.
See also: Wando.