NA 1 -- Sandfly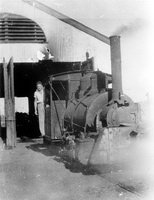 Built by "Baldwin" (builders No.7860) for contracting firm "C & E Millar Bros" as an 0-4-0 shunt engine. Landed Palmerston in 1886, assembled and entered service May 1887 for construction work on Palmerston to Pine Creek Railway. Sold to South Australian Railways in 2.1890. Locally known as Sandfly but officially given road number "107".
Transferred to Commonwealth Railways with North Australia Railway line handover of 1 January 1911. In 1917 it was recoded "NA 1", but this number appears to have never actually been painted on the locomotive. Spent all its Commonwealth Railways working life on the North Australia Railway till being withdrawn in June 1950.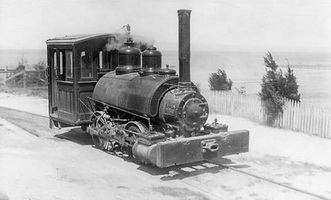 It was placed on display at the Port Augusta station between 1960 and 1982 before being restored for display in May 1984 at the Adelaide Passenger Terminal, Keswick.
Class:
NA
Builder:
Baldwin Locomotive Works, Philadelphia, USA
Introduced:
1.1.1911
Number in Class:
1
Wheel Arrangement:
0-4-0
Driving Wheel Diameter:
2 ft. 4 in.
Cylinders:
Number:
2
-
Position on frame:
Outside
-
Diameter x stroke:
8 in. x 12 in.
Valve Gear:
Stephenson
Boiler Pressure:
150 lbs
140 lbs
Tractive Effort:
3,400 lbs
3,270 lbs
Coal Capacity:
4 cwt
Water Capacity:
330 gallons
Weight in Working Order:
9 tons 10 cwt
Maximum Axle Load:
4 tons 10 cwt
Overall Length
18 ft. 6 in.