No.260
This industrial type locomotive was purchased in 1911 by the Engineer-in-Chief's Department of South Australia to work on the Woakwima Range Main Drainage Channel, near Beachport in the South-East. When this work on the project ceased in 1916, the engine was transferred to the South Australian Railways, who numbered it 260 and sent it to their Northern Division.
Class:
None
Builder:
Hudswell Clark & Co. - Leeds, England.
Introduced:
1916
Number in Class:
1
Wheel Arrangement:
0-4-0 ST (B ST)
Driving Wheel Diameter:
2 ft. 9½ in.
Cylinders:
Number:
2
-
Position on frame:
Outside
-
Diameter x stroke:
10 in. x 16 in.
Heating Surface:
Tubes:
254 square feet
-
Firebox:
33 square feet
-
Grate Area:
5.6 square feet
Boiler Pressure:
160 lbs p.s.i.
Tractive Effort:
6,494 lbs
Coal Capacity:
10 cwt
Water Capacity:
390 gallons
Weight in Working Order:
15 tons 18 cwt
Maximum Axle Load:
7 tons 19 cwt
Length Overall:
20 ft. 2¼ in.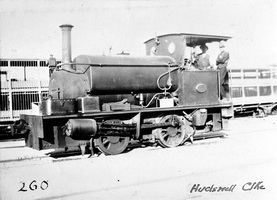 260
"Hudswell Clark" built 0-4-0 type narrow gauge saddle tank steam locomotive of the South Australian Railways. Builders No. 965.