No.0
This locomotive was loaned to the South Australian Railways by the Broken Hill Proprietory Company in exchange for V Class No. 11. During the short time that this engine was in service with the South Australian Railways, this engine was given the number "0". Note: It was vary similar to a Y class engine.
Class:
None
Builder:
Beyer Peacock, Manchester, England.
Introduced:
1891
Number in Class:
1
Wheel Arrangement:
2-6-2 T (1′C1′T)
Driving Wheel Diameter:
3 ft. 3¾ in.
Cylinders:
Number:
2
-
Position on frame:
Outside
-
Diameter x stroke:
14½ in. x 20 in.
Heating Surface:
Tubes:
708.46 square feet
-
Firebox:
69.48 square feet
-
Grate Area:
13.67 square feet
Boiler Pressure:
145 lbs p.s.i.
Tractive Effort:
13,289 lbs
Weight in Working Order:
34 tons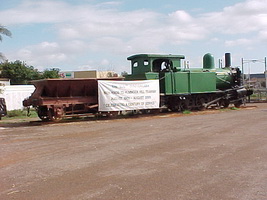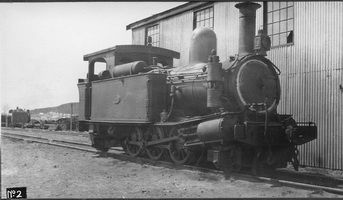 0
"Beyer Peacock" built 2-6-2 type narrow gauge tank steam locomotive, builders No.3357, loaned to the South Australian Railways from Broken Hill Proprietory Company.
| | |
| --- | --- |
| 8.8.1891. | Arrived ex ship "Port Jackson" at Port Adelaide. Assembled Islington new for B.H.P. Broken Hill. [nrm] |
| 28.8.1891. | Transferred to Broken Hill [nrm] |
| 7.1892 | Entered service, on loan, as "No.0" on South Australian Railways [nrm] |
| 3.1893 | Returned to Broken Hill Proprietory Company - To S.T.Co. on loan as No. 6 (First). [nrm] |
| 9.1893 | To B.H.P. Broken Hill as No. 2. [nrm] |
| 1902 | To Hummock Hill (later Whyalla), still as No. 2 B.H.P. [nrm] |
| 4.1962 | Out of service. [nrm] |
| 8.1962 | Placed on foreshore at Whyalla. [nrm] |
| 1983 | Transferred to Mt. Laura Homestead [nrm] |