O 204
This is the second locomotive to have the O class classification (see O54 and O55 for first O class).
Originally built in 1868 for service in Tasmania on the broad gauge Launceston and Western Railway Company as their No. 1, this 4-4-0 type tank locomotive was first put to work with an identical locomotive on construction work and entered regular service with the opening of the line for traffic on 10th February 1871. Following the takeover of the line by the Tasmanian Government in October 1873, this engine became one of that system's A class. After conversion of the line to narrow gauge it became redundant. In 1888 No. 1 was sold to a private Victorian company, "The Great Victoria Colliery" for use between mines at Woolamai and a jetty at Queensferry. Shortly after it was stored until approximately 1910, when it was sold to Smith and Timms for use on construction work on the railway from Gawler to Angaston. Side tanks were removed, leaving only a small tank on the locomotive, supplemented by a small four wheeled tank permanently coupled to the engine. Construction work on the Angaston line completed, number 1 was purchased from the contractors by the South Australian Railways in February 1912 and renumbered 204. I
t eventually gained the distinction of being the second class of locomotive known as the O class in the 1918-19 period. Service on the S.A.R. consisted mainly of shunting duties at Mile End and Port Adelaide, during which time it gained a Q class boiler during a rebuild at Islington.
Class:
O
Builder:
Robert Stephenson & Co. - Newcastle on Tyne, England
Introduced:
1912
Number in Class:
1
Wheel Arrangement:
4-4-0 well tank (2′B T)
Driving Wheel Diameter:
4 ft. 6 in.
Cylinders:
Number:
2
-
Position on frame:
Inside
-
Diameter x stroke:
16½ in. x 24 in.
Heating Surface:
Tubes:
1,032.8 square feet
-
Firebox:
89.2 square feet
-
Grate Area:
16.07 square feet
Boiler Pressure:
130 lbs p.s.i.
Tractive Effort:
13,371 lbs
Coal Capacity:
16 cwt
Water Capacity:
350 gallons
Weight in Working Order:
37 tons 14 cwt
Maximum Axle Load:
13 tons 7 cwt
Overall Length
29 ft. 4 in.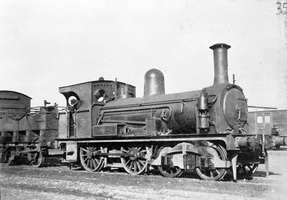 O 204
"Robert Stephenson & Co" built 0-4-0 saddle tank type broad gauge steam locomotive.
| | |
| --- | --- |
| 10.2.1871 | Enter service in Tasmania on broad gauge Launceston and Western Railway Company as their No.1. Built by Robert Stephenson & Co, builders No.1914. [nrm] |
| 10.1873 | To Tasmanian Government following the takeover of the line [nrm] |
| 1885 | Made redundant by conversion of broad gauge to narrow gauge [nrm] |
| 1881 | Sold to "The Great Victoria Colliery" [nrm] |
| 1910 | To contractors Smith and Timms for use on construction work on the railway from Gawler to Angaston. [nrm] |
| 2.1912 | Sold to South Australian Railways[nrm] |
| 28.2.1912 | Entered service as South Australian Railways "No.204". [nrm] |
| 1918-1919 | Given the classification of "O" class [nrm] |
| 1.11.1929 | Condemned [nrm] |
| 1.5.1930 | Cut up [nrm] |