I 161
This is the second locomotive to have the I class classification (see I38 for first I class). This broad gauge locomotive was originally imported by Victoria for work on a private railway in that state in 1888, this locomotive eventually came into the possession of contractors "Waring and Rawdon" circa 1903, who were to use it in their work of reclamation, construction and development of Outer Harbour, South Australia, in 1908. It passed into the hands of the South Australian Government via the Engineer-in-Chief's Department, from whence it was handed over to the South Australian Railways in 191 0. Numbered 161 and with the nickname of "Dirty Gert", most of this engine's working life was spent shunting the Port Adelaide wharves and marshalling yards with their associated tight curves.
Class:
I
Builder:
Beyer Peacock - Manchester, England
Introduced:
1910
Number in Class:
1
Wheel Arrangement:
0-4-0 Saddle Tank (B T)
Driving Wheel Diameter:
3 ft. 0 in.
Cylinders:
Number:
2
-
Position on frame:
Outside
-
Diameter x stroke:
12 in. x 18 in.
Heating Surface:
Tubes:
550 square feet
-
Firebox:
38 square feet
-
Grate Area:
7.5 square feet
Boiler Pressure:
145 lbs p.s.i.
Tractive Effort:
8,874 lbs
Coal Capacity:
10 cwt
Water Capacity:
500 gallons
Weight in Working Order:
22 tons 7 cwt
Maximum Axle Load:
11 tons 6 cwt
Overall Length
21 ft. 5½ in.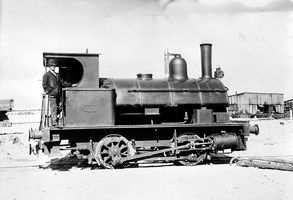 I 161 -- I 48
"Beyer Peacock - Manchester, England" built 0-4-0 saddle tank type broad gauge steam locomotive.
| | |
| --- | --- |
| 1888 | Imported in Victoria for work on a private railway. Built by Beyer Peacock - Manchester, England , builders No.2980. [nrm] |
| - | To contractors "Waring and Rawdon" [nrm] |
| 1908 | Used on dewvelopment work at Outer Harbour, South Australia [nrm] |
| - | Passed in the hands of South Australian Government via the Engineer-in-Chief's Department [nrm] |
| 1910 | Passed to South Australian Railways[nrm] |
| 9.12.1910 | Entered service as South Australian Railways "No.161". [nrm] |
| 1918-1919 | Given the classification of "I" class [nrm] |
| 8.4.1929 | Condemned [nrm] |
| 10.5.1930 | Cut up [nrm] |