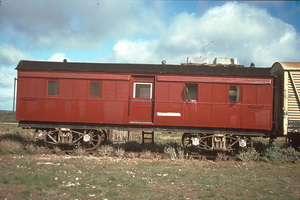 O 18 -- 258 -- Murray No.1 -- Willochra No.2
Entered service as V&SAR Joint Stock Post Office van "O 18" in 1887. it was transferred to South Australian Railways ownership in 1908 when it was given the broad gauge number "258".
In 1916 it was altered to an Officers Inspection car and named "Murray". It named was altered to Willochra in 1934.
Condemned in 1966 and sold to Mr Nicholls of Jabuk, who eventually sold it to Old Tailem Bend Town Historic village. It was moved to Port Dock Station Railway Museum in 1991.
See also: Willochra No.1, Murray No.2.