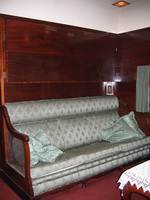 Vice Regal 4 - (1940 onward)
Entered service in 1940 as first air conditioned car on the South Australian Railways having cost £18,809 to build. It was constructed at Islington workshops as a steel bodied carriage with a timber panelled interior. Features of the car include
A rounded end that is setup as an observation/lounge with fix seating and loose arm chairs
Separate bedrooms for the Governor and his wife, divided by a common bathroom fitted with bath/shower, basin and toilet.
A Ladies compartment that contains two fold-down sleeping berths, wardrobes, a basin and toilet.
A Aide-de-camp compartment with two berths and basin.
Dining saloon with a fixed table and seating for six.
Kitchen area equipped with a refrigerator, bench, sink and stove.
Fully air conditioned with a Stone's axle driven generator.
Panelling of various compartments and the corridor feature vanished timber veneers

Corridor - Queensland Maple
Dining - Queensland Maple
Ladies & A-de-de-camp compartment - Queensland Maple
Governor and his wife's comparment - English Grey Sycamore
Observation/Lounge - Queensland Cedar
Retained by the South Australian Government after the sale of South Australian Railways to the Commonwealth in 1975. Allocated to the State Transport Authority of South Australia.
The car was initally built for the Governor General of Australia and was issued to traffic carrying the coat of arms of the Duke of York (who was expected to have been the next Governor General).
The car was attached to the Overland on a number of occassions.
It was moved the Port Dock Station Railway Museum in 1988.