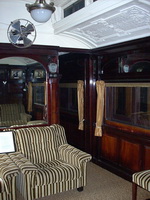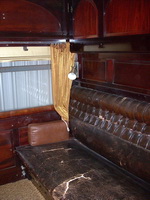 State Car No.4 - Victorian Railways
Non air conditioned, wooden car similar in appearance to "Yarra". It was built at Newport in 1912 to sleep 6 and seat 18 passengers. It underwent a major refurbishment in 1949 for a proposed visit by King George VI, due to illness the trip was deferred.
In 1952 it was repainted for red to blue and gold, and carried Queen Elizabeth II around Victoria in 1954.
Stored in Newport workshops under tarps. Early in 1974 it became the target of vandals. The damage was repaired and an openable gateway was fitted in the ironwork of the end platform to enable access to ajoining cars. The protective glass windows across the end platform was replaced with perspex. The lower canvas modesty covering was replaced with metal sheeting to reduce the draught nuisance. The adaptions were made so that it could be used on V.R. board specials.
It visited Adelaide with Royal Jubilee Display Train in February 1978.