BS 10 -- VFS 1 -- BRS 228 -- Mitta Mitta No.3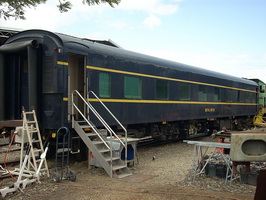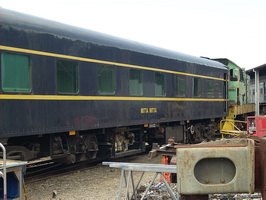 Built at the Victorian Railways Newport Workshops in 1955 as sitting car "BS 10". In 1962 it was converted to standard gauge and recoded "VFS 1". In 1984 it was converted to a broad guage refreshment car and coded "BRS 228".
Withdrawn from service in 1994 and converted to staff car on the Governors train, and named "Mitta Mitta", replacing "Goulburn". Work carried out included fitting of three sleeping compartments, each with two bunks, a sitting compartment, a dining/confernece compartment able to accomodate up to eight persons plus installing toilets and showers. Other new features included a sink, gas stove, freezer unit, hot water unit and microwave oven.
See also: Mitta Mitta No.1, Mitta Mitta No.2.