V&SAR Dynamometer Car
Dynamometer Car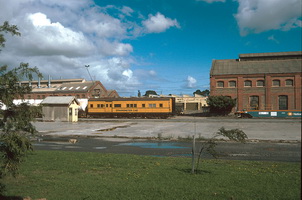 The Dynamometer car was built in 1932 at Islington workshops from parts salvaged from the carriages and mail vans destroyed in the Callington derailment on 27.12.1929. It was a Victorian and South Australian Railways Joint Stock Vehicle.

Originally it was painted the standard joint stock red/brown. Black and White photographs suggest that it was painted in "The Overland" at some stage, as the car is clearly shown with identical lining. By the mid 1960s it had been repainted yellow. It was used regularly by the Victorian Railways until the 1950s when it appears to have been stored except for occassional runs, and appears to have not been used at all between 1972 and 1982.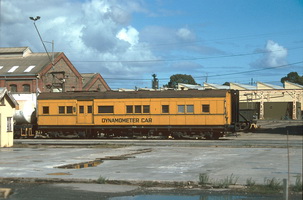 Australian National obtained full ownership of the vehicle, but loaned it to V/LINE in the early 1980s. In 1993 Australian National allocated the vehicle to Port Dock Station Railway Museum, but it was still in Victoria at time with the Seymour Group. It eventually returned to South Australia from Victoria in April 1995 and was transferred shortly after to the museum. Unfortunately by this time the car had sustained extensive water damage and requires extensive restoration to its interior.