Dorai No.1 -- Sleeping Car 14 -- SJ 284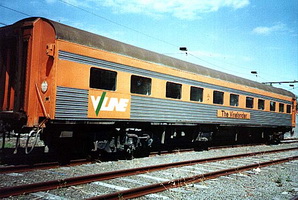 V&SAR Joint Stock corten steel twinette sleeping car Dorai was built at the South Australian Railways Islington Workshops for use on The Overland.
This vehicle was sold to the Victorian Railways in 1972 when a replacement vehicle was constructed and given the same name.
See also V&SAR sleeping cars: Allambi, Chalaki, Dorai No.2, Juki, Kuldalai, Malkari, Mokai, Mururi, Nankuri, Nomuldi, Paiti, Purpawi, Tantini, Tarkinji, Tawarri, Weroni, Yankai, Yanni.