Cafeteria Car -- C 1

South Australian Railways Steel refreshment carriage with roller bearings, built in 1947 at Islington, as the first South Australian Railways air conditioned car of the design later to be used on The Overland cars. It was given South Australian Railways Code number "C1", but always referred to as the Cafeteria Car. This car is not fitted with side entrances doors or end steps. When forming a portion of a train it had to be marshalled between modern steel, joint stock, or Victorian corridor cars with concertina ends. It seated 45 passengers.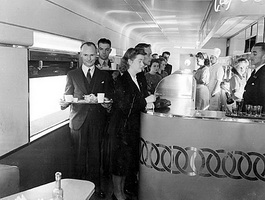 Original livery was blue and silver, but sometime in the early 1960's it was repainted green and then eventually obtained the standard red and silver of The Overland cars.
In 1982 it was hire to Victoria until rust became a problem. Upon returning it was stored at Islington works or temporary bogies until being purchased by Port Dock Station Railways Museum in 1988, where it has been removed from its bogies and fully restored as the Cafeteria Car shop.