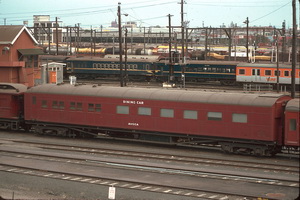 Avoca
Air conditioned Steel dining car. V.R.s second air conditioned carriage. Used on the Melbourne to Ararat section of The Overland and also the Sydney Express. Built at Newport in 1927 and was fitted with air conditioning in February 1936.
Irreverantly known as the Iron Tank. The original heavy bar framed bogies with large spoked wheels were replaced in 1973 by modern fabricated ones reclaimed from the "Spirit of Progress" carriages. These were suitably modified to support the great bulk of Avoca which tended to wallow like a ship in heavy seas on rough tracks.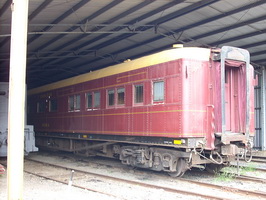 The kitchen section is not air conditioned and with the former huge wooden fuel stove, crews nicknamed it "HELL" and could be seen gasping for fresh air at the open windows. The old briquette stove was replaced in April 1969 with a Porta-gas model Seated 48 passengers at 12 tables.
Normally used on the V/LINE Train of Knowledge. After the withdrawl of the Train of Knowledge in 1989 "Avoca" was recoded "RS 235" and has been used on various special services.