Rosewater Junction
The "Rosewater Junction" is where the lines from "Dry Creek", "Woodville" and "Glanville" meet. It is immediately south of the Grand Junction Road bridge.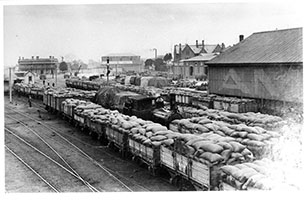 Port Adelaide Dock (7 m 34 ch)
Port Dock was not on the main line to Outer Harbour, it branched off just after "Alberton" near the "Rosewater Junction".
| | |
| --- | --- |
| 3.6.1966 | Port Adelaide Dock 7½ m - 7 m 34 ch - In "Metropolitan and Country Time and Fare Tables" [SAR PTT 3.6.1966] |