NDH class Gloucester Railcars - NDH 1 to 6
Jump to: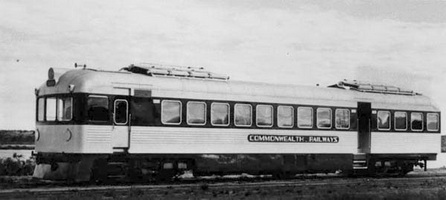 The Commonwealth Railways commissioned 6 narrow guage rail cars. These cars entered service 1950 and were designed by "Comeng" Sydney as Diesel Hydraulic, being built by the British "Gloucester Railway Carriage and Wagon Co Ltd" and coded "NHD". As built they seated 34 first class and 16 second class passengers.
Units 1 and 2 were allocated to the North Australia Railway, the rest being used on the Central Australia Railway. All units were written off by 8.6.1977.
Class:
NDH
Builder:
Gloucester Railway Carriage and Wagon Co. Ltd., UK.
Introduced:
1954
Number in Class:
6
Wheel Arrangement:
1A-A1
Engine:
Manufacture:
GM
-
Model:
6/71 (2)
Cylinders:
Number:
6
-
Bore & stroke:
4¼ in. x 5 in.
Horsepower:
140
Tractive Effort
Starting:
10,080 lbs
Length (over coupling points):
62 ft. 6 in.
Maximum Axle Load:
9.8 tons
Total weight:
36.7 tons
Fuel Capacity:
113 gallons
Maximum Speed:
50 mph
Hydraulic Transmission:
Manufacture:
Model
Allison
Series 600
Hydraulic Final Drive:
Manufacture:
David Brown