Leyland - titan truck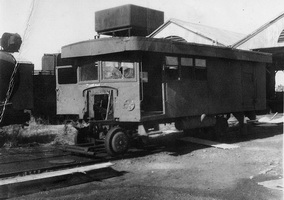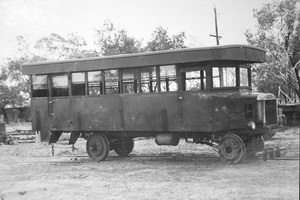 To provide a passenger service on the North Australia Railway a Leyland Titan truck was converted to a railcar by order of the Army. The truck chassis had its rubber tyred wheels replaced by steel flanged ones and a bus-type body, with seating for twenty-five passengers, fitted. The alteration was done by Kent Engineering Co., and the body was built by J.W.George and Son, both located in Melbourne. It was placed in service during 1941 and was owned by the Army, but operated by railway staff. Following the end of the war, it appears to have be transferred to the Commonwealth Railways and used as a railcar.
Class:
Leyland Titan
Builder:
Leyland

J.W. George and Sons, Melbourne.

Introduced:
1941
Number in Class:
1
Wheel Arrangement:
1A
Engine:
Manufacture:
Leyland
-
Model:
Lynx
Length (over coupling points):
24 ft. 9¼ in.
Total weight:
4.4 tons
Fuel Capacity:
24 gallons
Maximum Speed:
30 mph
Remarks:
26 passengers.